Police Strong Arm Businesses in Florida to Adopt No Colors Policies
As the National Motorcycle Profiling Survey results continue to roll in on week three of the planned 52 week study, a very disturbing picture is beginning to emerge with regards to business owners and who they may and may not be "allowed" to serve. Of the almost 2,000 surveyed throughout the country thus far, 40% report occurrences of the police, code enforcement, and licensing and permitting departments using strong-arm tactics to force businesses into implementing a "No Colors" policy.
These totalitarian acts aren't surprising, especially since the mass hysteria that ensued in the wake of the Waco shootings. Unfortunately, even prior to Waco the businesses that remained patch friendly, more often than not, are experiencing delays or denials in receiving their special event permits, business licenses, liquor licenses, while also dealing with increased levels of police presence. All of which are meant to drive customers away, and create financial hardships for the American business owner.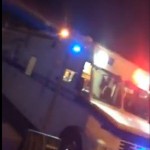 For example, one business in the heart of Daytona Beach who opted to be patch friendly endured an onslaught of code enforcement harassment, mixed with an overwhelming police presence and customer harassment. This harassment included the Daytona Beach's hostage negotiation command post being parked in front of the business with the red and blue lights on. Needless to say, the business has since shut down. See video here: https://www.youtube.com/watch?v=DHQmhJ0pJNY
Yet another patch friendly business on Main St. in Daytona Beach was denied permits just prior to Bike Week 2015, and had an overwhelming police presence outside its doors during the event. This cost the business owner tens of thousands of dollars in lost revenue. Though the aforementioned business is still open, it is no longer patch friendly.
As one business owner put it, "if I stood up to the police and code enforcement, I have no doubt I would win – but it would be a lengthy and expensive court process, in the meantime I have a family to feed and bills to pay."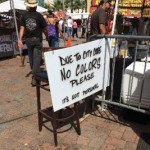 With these tyrannical tactics becoming more widespread throughout the country, it is obvious that we need to seek legislatively protection for equal access. By doing so, we would regain our right to accommodation by businesses that are open to the public regardless of attire or affiliation (which is protected under the 14th Amendment), as well as help protect the business owners from local government overreach.
It's not up to the local code enforcement, backed by the police and media pushing a false narrative that "all motorcycle clubs are domestic terrorists" to dictate how a person runs their business. If a person wants to cater to a specific segment of society, it should be their prerogative. If this were to happen to any other segment of society, there would be total outrage.