San Joaquin Sheriff Attacks Hells Angels Icon Sonny Bargers Memorial Service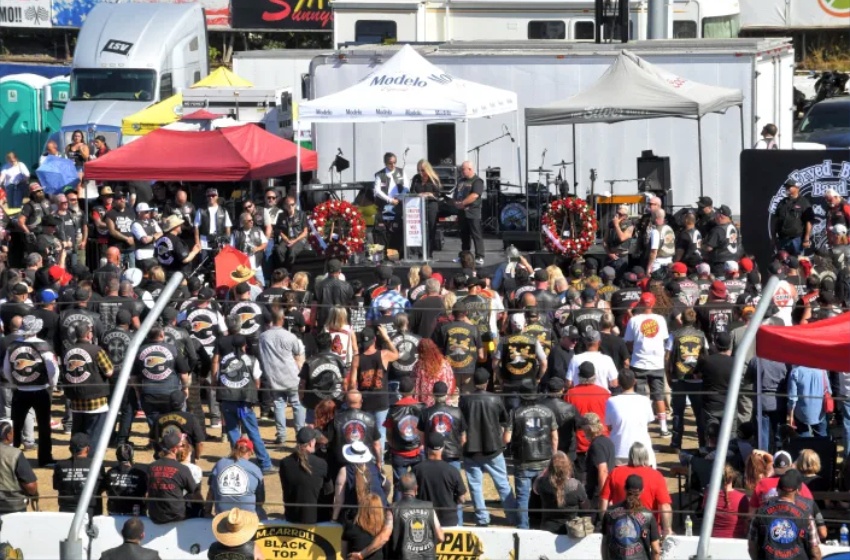 As a member of a Motorcycle Club, there are several annoyances that come with membership. You expect not to be welcome in some bars or restaurants, we expect the police to take our pictures while we are out with other members. But being denied the ability to hold a funeral/memorial service for a member due to pressure from sheriffs and other governmental agencies certainly is not something that is ever anticipated. This is exactly the situation the Hells Angels Motorcycle Club (HAMC) found themselves in when they attempted to hold a public service for longtime member Ralph "Sonny" Barger. The National Council of Clubs (NCOC), representing the interests of thousands of Motorcycle Club members, finds this behavior and the actions of the government officials absolutely reprehensible.
The Buildup
Sonny passed away after bout with cancer on June 29, 2022 at the age of 83. Sonny was, arguably, the most well-known Motorcycle Club member, from one of, if not the, largest Clubs in the world. Sonny was laid to rest privately at the
Sonny was laid to rest privately at the Sacramento Valley National Cemetery, as he received a honorable discharge from the Army in 1956.HAMC knew many more people would like to pay their final respects to one of the founding members of the Oakland chapter. Knowing that people from all over the country, and possibly the world, would be arriving, they searched for a venue that could accommodate the sheer number of people who would be in attendance. Many venues were contacted, including the Oakland Colosseum, but pressure from government officials proved to be a difficult hurdle, and all the locations eventually canceled. Finally, after roughly two months, Tony Noceti of the Stockton 99 Speedway agreed to host the Memorial Service.
Sheriff Patrick Withrop
On September 23, 2022, Sheriff Withrow of the San Joaquin Sheriffs Department held a press conference fit for Hollywood, in which he made several disparaging and misleading comments regarding the HAMC, the host, Mr. Noceti, and any other person who decided to attend the event. Sheriff Withrow began his sensationalized speech by stating he "felt it was important for public safety" that the public "truly understands the seriousness of what we are about to face," and began reading a erroneous report provided by the DOJ, labeling all "outlaw motorcycle gangs" as people who engage in "weapons trafficking, and drug trafficking." This is in direct contrast to all available data that has been used at many state and Federal levels. He later continued " I am bringing in substantial resources to protect the safety of the general public from the violence and danger that may result from this event." These resources, as he states, amount to roughly $500,000 from San Joaquin county, and "millions" from the California Highway Patrol (CHP), all of which come from the taxpayers of California. Sheriff Withrow continues to stoke the fear of the residents of his county by expressing "I am asking members of the community, particularly in the areas surrounding the event, but also just county wide, to make an effort to stay out of the area Saturday altogether." Sheriff Withrow also implies there would be violence on the streets since the supposed "truce" between two clubs did not include traveling to and from the event. The sheriff went as far as to try and get a court order to shut down the service. The Stockton 99 Speedway is a private venue, and had all applicable permits in place, so that was not possible. Sheriff Withrow concluded his grandstanding exaggeration by probably his most telling statement. He said " our goal is, if it goes bad at an event like this and they are only hurting each other, we're gonna make sure it stays away from our good public and keep everyone safe and deal with the aftermath. But ah, its gonna spill out into the street- there's no doubt." He previously said he would not send "his" people into the event, even if there was an emergency. When asked if there were any specific incidences or intelligence that would lead to such inflammatory statements and drastic measures, the Sheriff stated he was basing his actions on the "history" of gatherings, not any specific facts.
The Event
Sonny Bargers memorial service took place on September 24, 2022. The event was attended by as many as 8,000 people from all over the country. The Fryed Brothers Band played a few songs, and Tucker Carlson reminisced about hearing member of the HAMC riding past his house when he was growing up. As reported by a longtime member from the east coast, " there were cops everywhere. They had roads blocked off, stopping all the cars that approached." This same member reported there were well over fifty different Motorcycle Clubs in attendance, including one of the "big five". So
what happened with all of these people at the event that Sheriff Withrow warned would bring violence and chaos to the area? NOTHING. As reported by a vendor, who was present for the entire event, Sylvia Baker reported "Not even an angry bump of shoulders" and "everybody was well behaved", "they tipped well, which is always great!". Ms. Baker continued "there were great memories shared, people hugged, and I think this (the law enforcement reaction and presence) was a huge waste of tax payer dollars."
Conclusion
We believe Sheriff Withrows comments throughout the press conference he held are troublesome, unnecessarily inflammatory, and downright counterfactual. We at the NCOC believe the Sheriffs words and actions bordered on State Actor Discrimination, and if Mr. Noceti did not posses the fortitude he does, this event may not have taken place. Citizens of San Joaquin County can make their voices heard at the ballot box when Patrick Withrow is up for re-election, as the residents of McLennan County did with former District Attorney Abel Reyna. The rest of us can also hold our elected officials responsible to the People. We can not allow them to disparage a segment of the population based on erroneous data or previous misconceived notions. Hopefully, in the future, this will not happen to you next!