Idaho House Unanimously Approves Anti-Motorcycle Profiling Bill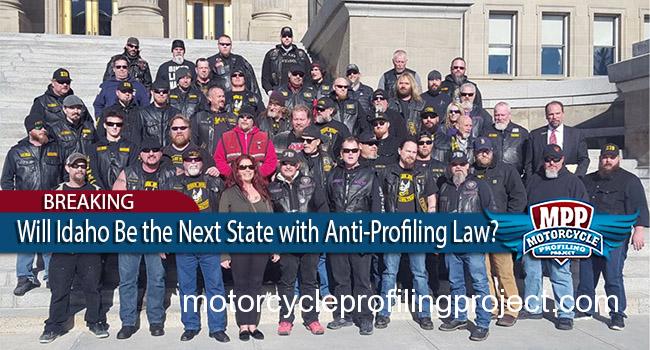 Grassroots manpower is the most powerful tool in the motorcycle rights movement's arsenal and motorcycle clubs are a critical component. This power was again demonstrated by the Idaho motorcycle club community and ABATE of Idaho beginning on February 21, 2017 when HO 123, a law prohibiting motorcycle profiling, passed out of the House Judiciary committee with a unanimous do-pass recommendation. On February 27th the entire Idaho House of Representatives voted 69-0-1 (one rep. was absent) in favor of HO 123. Which will now go through the same process in the Senate and, if successful, will ultimately be the third state to send similar legislation to their Governor's desk to be signed into law.
Manpower and The Public Hearing
Bikers filled every available seat during the public hearing, so the adjacent room was opened up in order to accommodate the overflow. Bikers are one of the most visible constituencies actively utilizing the democratic process through grassroots mobilization. The movement to pass anti- motorcycle profiling laws at the state and federal level is proof positive, and legislators are taking notice.
HO 123's primary sponsor, Representative Robert Anderst, introduced the bill, emphasizing that the goal was to look forward and improve the relationship between law enforcement and the biking community. Rep. Anderst testified that his support stemmed from the perspective of both a legislator and an advocate. Rep. Anderst is a biker himself, and proudly stands with the motorcycle community.
Anderst said, "We definitely aren't the caricature sensationalized on TV. Just like any large group, we are made up of individuals … tradesmen to attorneys, truckers to clergy – even a few legislators. What I can say is that the vast majority are hardworking, productive members of society who want to be left alone."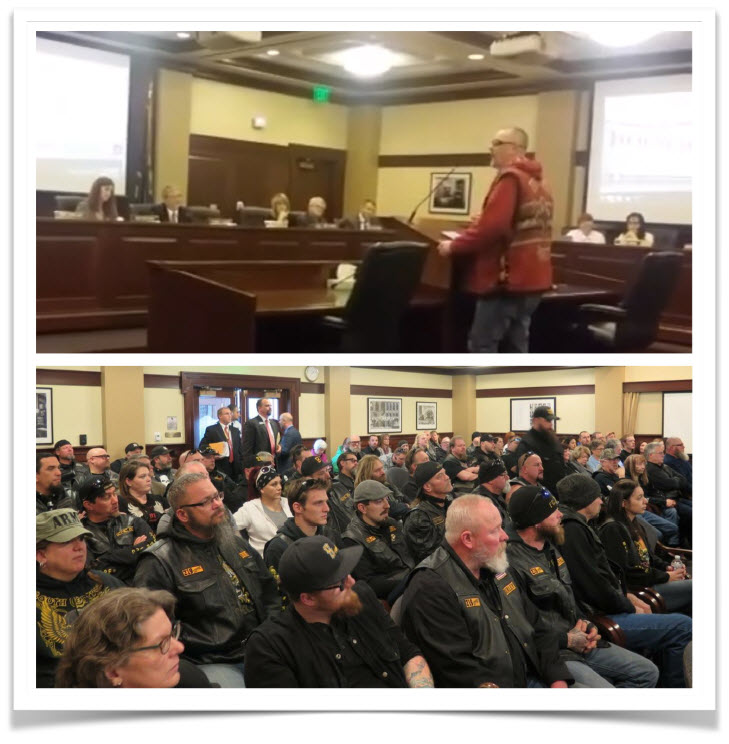 The Motorcycle Profiling Project travelled from Washington State to offer their perspective based on the Washington law- RCW 43.101.419- that passed unanimously there in 2011. Maryland also passed the law without a no vote in 2016. 1
Although the Washington law hasn't eliminated profiling incidents, it has reduced them noticeably. "There is no downside," the MPP told the Idaho lawmakers. "HO 123 simply prohibits motorcycle profiling. … It has no fiscal impact. … It also reduces the state's exposure to civil liability." 2
Rep. tells bikers, "This is your house!"
Rep. Christy Perry, R-Nampa, told the big crowd of motorcycle enthusiasts as she moved to approve the bill, "You had us at hello…This is the people's house, and you are welcome any time, as is anybody who wants to come in and address their government."
There is every reason to expect that Idaho motorcycle clubs and ABATE members will again show up to the Capitol in huge numbers in support of HO 123 when it receives a public hearing in the Idaho Senate. The only question remaining is whether Idaho will be the third state behind Washington and Maryland to pass similar laws without a single no vote.
1 http://www.spokesman.com/stories/2017/feb/21/idaho-house-panel-unanimously-backs-motorcycle-pro/
2 Id