Video Proves FBI Uses Local Cops To Profile Bikers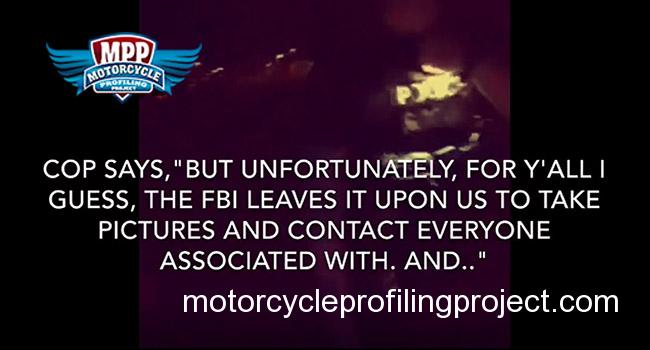 The Motorcycle Profiling Project (MPP) recently received a video capturing a typical motorcycle profiling stop that occurred in September 2016. One of the victims explained to the MPP that a group of Ft. Worth Gang Task Force officers in four vehicles conducted a stop on four motorcyclists wearing motorcycle club insignia. On video, a Ft. Worth officer admits that he has engaged in a pattern of profiling and stopping individuals based on their associations with motorcycle clubs in order to photograph and gather intelligence.
Although disturbing, motorcycle profiling stops are becoming more common, so this admission is not shocking. What is shocking is the explanation for why a policy of profiling exists in the first place.
On video, in response to one of the bikers commenting that they were good guys, a Ft. Worth officer says,
"Unfortunately, for you all at least, the FBI leaves it upon us to take pictures and make contact with everyone associated with. And even though y'all don't claim 1%, y'all associate with 1%'ERS. So, we kinda gotta stop y'all every once in a while too, you know what I mean?"
Experts Confirm Federal Profiling Model
Is this officer's statement true? At best, is this happening just in Ft. Worth? Just in Texas? Or is the FBI encouraging local PD's everywhere to make contact with all 1%'ERS and associates through profiling stops in order to photograph and document the movements and associations of hundreds of thousands of people?
Dr. Will Dulaney is a biker's rights activist, veteran with multiple deployments, and Associate Professor of National Security at a major military college. He has written about, testified, and consulted in both state and federal RICO and state gang enhancement cases for well over a decade. Dulaney analyzed the video and concludes that it serves as proof that a federal model of motorcycle profiling exists.
"What the law enforcement officer acknowledges in the video is import because he establishes video-graphic evidence supporting the fact a federally controlled system of motorcycle profiling exists", says Dulaney.
Dulaney argues, "In over a decade of sifting through discovery evidence and testifying in federal RICO and state gang-enhancement trials across the US a model of law enforcement behavior has emerged.
The model is simple: specific federal agents use various federal, state, and local police "motorcycle gang" task forces to profile members and friends of motorcycle clubs. The profiling ranges from pre-textual traffic stops intended to document identities and update gang crime databases to the systematic deprivation of civil rights; with violations of the 1st, 4th, and 14th Amendments being most prevalent."
Note: This model is being presented in a peer-reviewed paper to academics and policy makers this June during the annual meeting of the International Journal of Motorcycle Studies at the University of Colorado in Colorado Springs.
Unconstitutional Profiling Demands Legislative Relief
Being a 1%'ER, or being associated with a 1%'ER, is not illegal nor does it rise to the level of reasonable suspicion justifying a stop under the 4th Amendment. Profiling stops also amount to Selective Enforcement of the law in violation of the 14th Amendment.
Motorcycle club insignia is also protected by the 1st Amendment and wearing colors is considered expressive conduct.
Evidence of such systemic profiling demands legislative relief at both the state and federal level. Being in a motorcycle club, even a 1% club, is not a justification for the wholesale violation of civil liberties represented by a systematic policy of profiling stops and intelligence gathering. Please contact your elected officials and request support for a law addressing the issue of motorcycle profiling.