Motorcycle Profiling Bill Unanimously Passes Louisiana House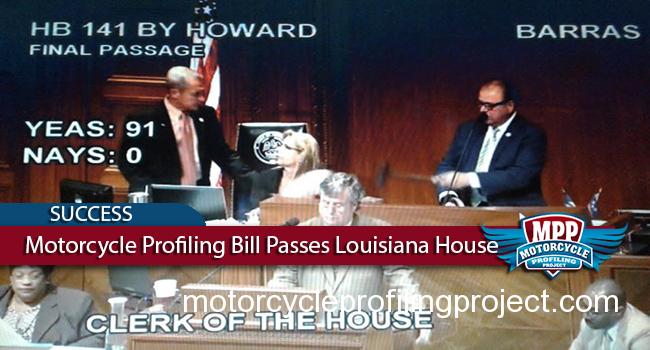 The State of Louisiana is on pace to become the third state to pass a law addressing the issue of motorcycle profiling. On Tuesday, May 15th, on a vote of 91-0, the Louisiana House Of Representatives unanimously approved HB 141 which requires mandatory motorcycle profiling sensitivity training be integrated in the current policing curriculum. The measure now goes on to the Louisiana Senate, moving one step closer to becoming law.
A Grassroots Effort
HB 141 is the result of the cooperative efforts of ABATE and the Confederation of Clubs of Louisiana, with support from the Motorcycle Profiling Project and the 2018 National Motorcycle Profiling Survey.
On the heels of a successful campaign to exclude motorcyclists from the state masking laws which were being used as a mechanism of profiling, ABATE and the COC took the next logical step by advocating a law addressing motorcycle profiling at a broader level. With the help of legislators, particularly primary sponsor Representative Frank Howard, HB 141 has yet to receive a no vote in either the judicial committee or the House Floor.
Mandatory Training
Recognizing that improper training is a primary cause of profiling, HB 141 requires motorcyclist profiling sensitivity training and defines the concept. HB 141 reads:
(1) The council shall include motorcyclist profiling awareness training in the current bias recognition policing curriculum. The training shall consist of at least one-half hour of classroom or internet instruction, or a combination of classroom and internet instruction. This training shall address issues related to motorcyclist profiling and shall be provided to peace officers as defined in R.S. 40:2402(3)(a).
(2) For purposes of this Subsection, "motorcyclist profiling" shall mean the arbitrary use of the fact that an individual rides a motorcycle or wears motorcycle- related clothing or paraphernalia as a factor in deciding to stop, question, take enforcement action, arrest, or search the individual or his motorcycle or motor vehicle.
A National Discussion
Motorcycle profiling is now a legitimate policy discussion. In fact, on December 11, 2018 the US Senate unanimously approved a resolution directing all states to follow the lead of Washington State and Maryland and implement policies addressing the issue. An identical resolution is now making its way through the US House of Representatives.
Louisiana appears to be responding to this federal directive.
*for HB 141 tracking and bill text go to: https://legiscan.com/LA/text/HB141/2019