Big Win – MC's Stop 'No Motorcycle Colors' Policy in Colorado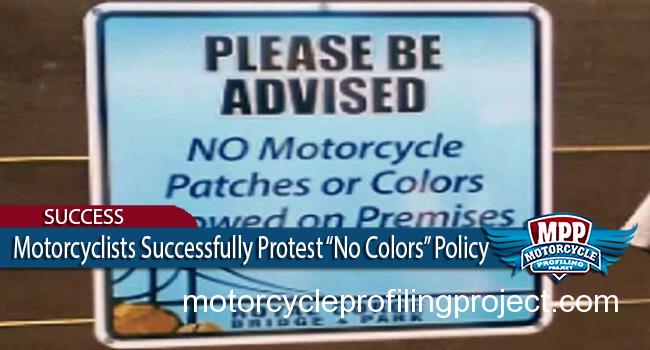 Royal Gorge Bridge and Park (RGB&P), located near Cañon City, Colorado, recently adopted an over broad policy of discrimination against any individual wearing motorcycle-related patches or colors. So the National Council of Clubs (NCOC), an organization representing the interests of motorcyclists nationwide, immediately protested the decision in the form of a written complaint to RGB&P management.
Normally, private actors such as RGB&P cannot be sued for 1st Amendment restrictions because there is nothing unconstitutional about private actors discriminating. However, RGB&P leases the land from Canon City exposing the government actor to civil rights liability for the discriminatory acts of the private party.
After receiving the NCOC's letter of complaint, RGB&P management contacted NCOC attorney Wade Eldridge and informed him that all "no motorcycle club colors" signs had been removed from the park and that the park reversed its policy. The NCOC verified on June 10th that all signs have been removed. NCOC participants, members of motorcycle clubs including 1%'ers, have been granted access to the Park.
This is an important win for the NCOC and the motorcycle club community generally. Many motorcyclists frequent RGB&P and some club members have even had their ashes spread at the park.
Silence is consent. Grassroots political opposition is one of the most effective strategies for tangible change, as demonstrated by the NCOC.
Original NCOC Complaint Sent to Royal Gorge
Royal Gorge Bridge & Park's "No Motorcycle Patch or Colors" Policy Violates the 1st Amendment
Motorcyclists from Colorado and around the US wearing motorcycle-related patches and colors, including members of the Colorado Confederation of Clubs and National Council of Clubs, regularly visit the Royal Gorge Bridge (RGB&P) and Park in Fremont County, Colorado.
Recently, the RGB&P adopted a broad policy of discrimination against any individual wearing motorcycle- related patches or colors.
RGB&P's discriminatory actions involve significant state involvement sufficient to establish a claim under 42 USC Section 1983. The nature of RGB&P's lease with Cañon City and its proximity and dependence on Fremont County roads for access, puts the city and county into such positions of interdependence that they must be recognized as "joint participants" in acts of discrimination.
It is settled law that motorcycle patches and colors are Constitutionally protected by the 1st Amendment from acts of government discrimination.
Royal Bridge and Park Openly Discriminates Against Motorcyclists
Members of the Colorado Confederation of Clubs and the National Council of Clubs, motorcyclists that wear patches and colors, have a history of meeting and assembling at Royal Gorge Bridge and Park (RGB&P), located near Cañon City in Fremont County, Colorado, to communicate thoughts and discuss public
RGB&P recently adopted a "No Motorcycle Patches or Colors Allowed on Premises" policy which is prominently displayed on signs posted at the
Cañon City Owns and Leases Property to Royal Gorge Bridge and Park
The 360-acre RGB&P is owned by Cañon City and leased to Royal Gorge Company of Colorado with yearly payments based on a percentage of park sales. 1
The official government registration papers indicate that Cañon City became the owner of the bridge and incline railway during the 1940s, independent of owning the land which they lease to the Royal Gorge Company.2
The bridge and the incline railway were listed in the National Register of Historic Places on September 2, 3
The road leading to and across the bridge from Route 50 is designated as Fremont County Road 3A and begins about 10 mi (16 km) west of Cañon The road leads to the bridge from U.S. Route 50, continues on the south side of the gorge, and eventually re-connects with Route 50. 4
Cañon City's Lease Agreement Creates Significant State Involvement In RGB&P's Discriminatory Acts
Burton Wilmington Parking Authority 5,6,7, the controlling on-point Supreme Court precedent, concludes that there is significant state involvement to permit an action under the Fourteenth Amendment of the Constitution when a state leases public property to a private actor who then discriminates.
The very nature of a lease establishes a symbiotic relationship between parties that is absent when persons independently own property.8In Burton, the basis for the "interdependence" between the state and the private entity was rooted in the state lease to the private The property was publicly owned and dedicated to "public use;" and patrons used public infrastructure to access the property. 9
A lease resulting in physical and financial benefits to the state creates a symbiotic and interdependent relationship. "[T]he State has so far insinuated itself into a position of interdependence. . . that it must be recognized as a joint participant" in the discrimination. 10
The lease agreement with RGB&P financially benefits Cañon In 1956, the Royal Gorge Bridge Company agreed to pay the city a percentage of its revenue instead of a yearly fee for the lease. The percentage arrangement has proven very beneficial to Cañon City allowing it to lower property taxes significantly, achieving the lowest property tax rate in Colorado. 11
Access to RGB&P, including crossing the bridge, is 100% dependent on Fremont County Road 3A. This creates an interdependent relationship between RGB&P and Fremont
Parks and Streets are Considered Public Property for the Purposes of 1st Amendment Analysis
Regardless of ownership, "[w]herever the title of streets and parks may rest, they have immemorially been held in trust for the use of the public and, time out of mind, have been used for purposes of assembly, communicating thoughts between citizens, and discussing public questions." 12
RGB&P's Policy Is Unconstitutional – Motorcycle Colors are Protected from State Discrimination By the 1st Amendment.
Cohen California establishes that individuals have the 1st Amendment right to wear clothing which displays writing or designs in public places. 13 The United States Supreme Court has long recognized and protected the right of an individual to freedom of association. Thus, a person's right to wear the clothing of his choice, as well as his right to belong to any club or organization of his choice, is constitutionally protected.
In Sammartano First Judicial District Court (2002), the court applied Cohen specifically to motorcycle club colors. 10 individuals wearing motorcycle colors, including the Hells Angels Motorcycle Club, were denied access to a courthouse in Carson City, Nevada. They refused to remove their colors and were arrested for trespassing. The state asserted motorcycle club colors were gang attire and could cause a potential threat of violence and intimidation. The 9th Circuit rejected the gang argument, concluding generalizations were insufficient, explaining that "a total ban on this expressive activity…is "an unreasonable means" of preserving a safe environment."
Any restrictions must be narrow and "specific to particular (apparently hypothetical) cases involving rival organizations." Restrictions on motorcycle club colors are unconstitutional "absent a showing in the record of actual (or realistic threat of) interference or disruption." 14
RGB&P's policy represents a total ban on expressive conduct and is not based on a reasonable threat. The policy is far too broad to be considered reasonable. The policy is not specific to particular organizations or particular threats. The over-reaching policy encompasses all people wearing "motorcycle patches and colors" and is therefore an unreasonable means of achieving a safe environment under the 1st
Generalizations and past actions of others are insufficient policy justifications. Even a more narrow policy applying only to 1% motorcycle clubs would be too general. Motorcycle clubs, including those clubs labeled organized or criminal gangs by some authorities, are protected associations. Restrictions solely based on expressing those associations violate the 1st
There is "no evidence that by merely wearing [1% motorcycle club] "colors," an individual is "involved in or associated with the alleged violent or criminal activity of other [1% motorcycle club] members. It is a fundamental principle that the government may not impose restrictions on an individual "merely because an individual belong[s] to a group, some members of which committed acts of violence." In fact, the Supreme Court has long "disapproved governmental action . . . denying rights and privileges solely because of a citizen's association with an unpopular organization." Healy v. James, 408 U.S. 169, 185-86 (1972). 15
To permit restrictions on any person "who wears the insignia of [a 1% motorcycle club], without regard to or knowledge of that individual's specific intent to engage in the alleged violent activities committed by other members, is antithetical to the basic principles enshrined in the First Amendment and repugnant to the fundamental doctrine of personal guilt that is a hallmark of American jurisprudence. 16
1 http://www.canoncitydailyrecord.com/news/canoncity-local-news/ci_24210571/royal-gorge-bridge-park-gives-1-06m- lease
2 "National Register Digital Assets". National Park Service. 09-02-1983
3 id
4 see Google Maps; see "What to Expect". Royal Gorge Bridge and Park. Archived from the original on 01-27-2016
5 Burton v. Wilmington Parking Authority 365 U.S. 715, 81 S. Ct. 856, 6 L. Ed. 2d 45, 1961 U.S. 1297.
6 Brief Fact Summary: Burton (Appellant), brought an action under the Equal Protection Clause of the Fourteenth Amendment, claiming he was discriminated against because the Wilmington Parking Authority and the Eagle Coffee Shoppe, Inc. (Appellees), refused to serve him in their restaurant. The Appellant claims there is state action sufficient to bring a claim, as the Eagle Coffee Shoppe, Inc. leased its restaurant space from the City and the restaurant was attached to the Wilmington Parking Authority a City owned parking garage.
7 see also Hammond v. University of Tampa, 344 F.2d 951 (5th Cir.1965) (establishment of university made possible by surplus city buildings turns action of university into state action); Wimbish v. Pinellas County, 342 F.2d 804 (5th Cir. 1965) (county lease of land for use as a golf course to private tenant who maintained racially discriminatory policies was state action); Derrington v. Plummer, 240 F.2d 922 (5th Cir. 1956) (lease of basement in county courthouse to tenant who practices racial discrimination in serving policies constitutes state action).
8 Hala Ayoub, e State Action Doctrine in State and Federal Courts, 11 Fla. St. U. L. Rev. 893 (2017) p. 897. ir.law.fsu.edu/lr/vol11/iss4/3
9 Supra note 6 p.723-724; Supra note 8 p. 897
10 Supra note 6; Supra note 8 p.897
11 Dexheimer, Eric (04-29-2009). "The Royal Grudge Bridge". Denver Westword, LLC.
12 Hague v. Committee for Industrial Organization, 307 U.S. 496 (1939)
13 Cohen v. California, 403 U.S. 15 (1971)
14 Sammartano v. First Judicial District Court, 303 F.3d 959 (9th Cir.2002)
15 Coles v. Carlini 162 F.Supp.3d 380 (2015)
16 id