Why the Brother Speed MC Victory is So Important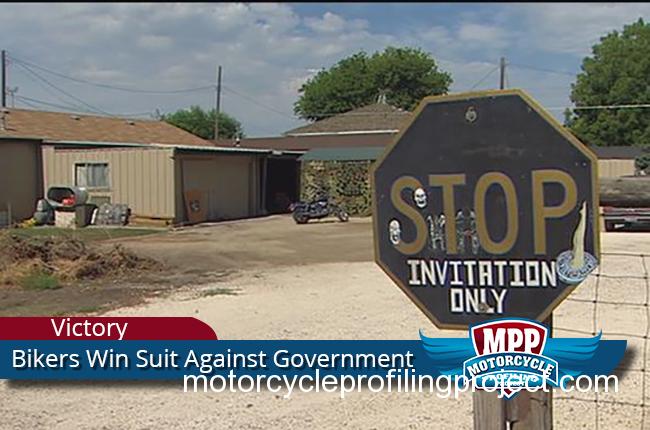 The Brother Speed MC settlement over a 2013 raid at their Nampa, Idaho clubhouse is a textbook example of how law enforcement uses the media following baseless military-style raids to promote a negative perception of motorcycle clubs to the general public. Almost always, these raids amount to nothing but a photo op to feed a paradigm of profiling and discrimination. But notice that the stories about the settlement are barely a blip on the radar compared to the news coverage of the initial raid. It is important that Brother Speed's story be told and shared in an attempt to encourage others to fight back and balance the scales of perception from Sons of Absurdity back to reality.
In August 2013, over 40 heavily armed state and federal law enforcement agents raided the Brother Speed clubhouse in Nampa and held everyone captive for over 3 hours. The warrant was sealed so there was no reasoning given for the raid. Of course, nothing was found in the clubhouse and no one was arrested or charged with a crime. But that did not stop law enforcement from seizing property and spreading generalized propaganda to justify a culture of discrimination.
Boise Police Gang Unit Detective Dave Leavitt was not on that raid, but claims to have extensive experience dealing with what he calls Outlaw Motorcycle Gangs in Idaho and offered "insight" into the Brother Speed MC to local media outlets.
As reported by 7 KTVB.com news in Idaho on August 30, 2013, Leavitt said that:
"groups like those raided by federal agents in Nampa are different than just an average group of riders who like to get together on the weekends, wear leather and ride.

What's the line between them? Criminal activity. The outlaw motorcycle clubs or gangs, like Brother Speed, is going to commit criminal acts." Leavitt continued. "Brother Speed started in the late 60s in Boise, with a group of motorcycle enthusiasts, but today police say the group has changed over time. Eventually it morphed and changed into what it is today, an outlaw motorcycle club with a three-piece patch that commits criminal activity."
These generalized claims are based on pure stereotype as demonstrated by the lack of particularized proof of criminality. Brother Speed MC is simply not a criminal organization and the Nampa chapter is a perfect example of police rhetoric being dis-proven by reality. According to a press release issued by the club's attorney Craig Durham:
"Brother Speed was founded in Boise in 1969 by a group of men with a common passion for riding American-made motorcycles . . . The members of the Nampa/Caldwell chapter members are primarily tradesmen, they said, including a pipe fitter, a tile setter, an electrician, and a plumber, among others. Four are retired."
Brother Speed MC refused to just accept excessive civil liberty violations as the result of a military-style SWAT raid accompanied by a sealed warrant:
"The club and its members sued numerous federal agents and the United States, saying their civil rights were violated when federal agents serving a search warrant broke down the door, set off flash-bang grenades, and sent dozens of heavily armed SWAT team members into the small home.

The club members were detained for up to three hours while agents forcibly removed their personal property, including their clothing, and confiscated club memorabilia, according to the club's attorney, Craig Durham. "These were regular guys minding their own business that night," Durham said. "They were not a threat, and there was no call for the use of terrifying, military-style tactics to serve a simple search warrant."

"Ten members of the Brother Speed MC, along with the club itself, will be splitting a $16,500 payment from the United States government, to settle their lawsuit over a 2013 raid on their Nampa clubhouse that yielded no charges." (See "Brother Speed settles suit against U.S. gov't over Nampa raid, gets payment" – Nov 12, 2015 – Idaho – By Betsy Z. Russell; www.Spokesman.com)
Although the government is admitting no fault as a condition of the settlement, it is a big victory for a number of reasons. The club and its members are being compensated as a result of a deprivation of their rights as a result of an overly-broad and unjustified military-style raid. Moreover, the fact that law enforcement is not admitting fault will mean very little to the legislature when considering the costs of settlements compared to cost-free anti-motorcycle profiling legislation that reduces obvious civil liability exposure.
This victory demonstrates that motorcycle clubs, even those clubs labeled criminals by some in government, are not what sensationalized law enforcement reports say they are. Behind most raids is the true story of a motorcycle club, a 1st Amendment protected association, that deserves protection from discriminatory law enforcement practices fueled by inaccurate stereotypes.