Texas Sheriff Dave Mann Resigns from City Council After Bikers Honored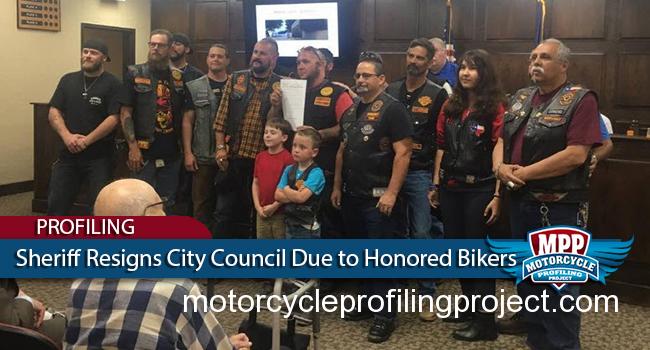 White Settlement, Texas City Councilman Dave Mann, also a Tarrant County Deputy Sheriff, abruptly resigned Tuesday night, a week after the city, he said, "recognized local Bandidos motorcycle gang members during a proclamation for Motorcycle Safety Awareness Month." Mann is extensively quoted by local media vilifying the Bandidos Motorcycle Club, even members participating in protected political conduct, suggesting that Bandidos not be recognized for any civic achievements or even be allowed at public events.
The comments by employees of the Tarrant County Sheriff's Department reveal a fundamental flaw in law enforcement's understanding of the 1st Amendment and the rights of expression and association embodied within. This fundamental flaw, to treat all members of the Bandidos or their associates as criminals, based on the actions of other members, increases the probability of illegal profiling and other acts of discrimination targeting individuals for their associations, not behaviors.
Tarrant County Sheriff Department's Discriminatory Mindset
On May 8th, 2018 members of motorcycle clubs openly displaying support for the Bandidos MC were among a group recognized by the city council for their efforts during Motorcycle Awareness Month. Because of this recognition, local news media reports Dave Mann as saying that he could no longer serve on a council that did not value and protect its citizens.
The Star-Telegram reports Mann writing in his letter of resignation, "It is a sad day when city officials invite violent criminal street gangs into our city who thrive on selling heroin, marijuana, methamphetamine and other narcotics and promote prostitution, human trafficking, gun trafficking, murder and other criminal activities."
This discriminatory mindset extends to Mann's direct supervisor. "I commend you for taking the higher road," Capt. B Hardin wrote. "Not just as a City Councilman but as a Texas Peace Officer. We really have to watch who we associate with and it's obvious there are some people on your City Council who prefer to associate with the wrong people."
Mann doesn't even think members should be allowed at public events. The Star Telegram reports, "The letter also stated that when the motorcycle gang members were leaving the city hall, a city official "openly" invited them to the Fourth of July parade, a family friendly activity. "I cannot be a part of a council who openly honors criminals and their illicit activities. Council members are sworn to protect our citizens!"
(See Star-Telegram, "Did White Settlement honor Bandidos? This councilman says so, and now he has resigned," May 15, 2018)
Associating With Bandidos Is A Constitutionally Protected Right
It's a good thing Dave Mann has resigned. Unfortunately, he and his supervisor are law enforcement officers and their discriminatory mindset follows the former council member to the streets where real damage can occur. Mann's desire to exclude Bandido supporters from public events or political activities in the community would violate the 1st Amendment.
Motorcycle clubs, including those clubs labeled organized or criminal gangs by authorities, are 1st Amendment protected associations. Restrictions such as Mann appears to endorse, solely based on association in a motorcycle club, would violate the 1st Amendment.
There is "no evidence that by merely wearing [1% motorcycle club] "colors," an individual is "involved in or associated with the alleged violent or criminal activity of other [1% motorcycle club] members. It is a fundamental principle that the government may not impose restrictions on an individual "merely because an individual belong[s] to a group, some members of which committed acts of violence." In fact, the Supreme Court has long "disapproved governmental action . . . denying rights and privileges solely because of a citizen's association with an unpopular organization." Healy v. James, 408 U.S. 169, 185-86 (1972).
If Mann were permitted to impose restrictions on any person "who wears the insignia of [a 1% motorcycle club], without regard to or knowledge of that individual's specific intent to engage in the alleged violent activities committed by other members," it would be "antithetical to the basic principles enshrined in the First Amendment and repugnant to the fundamental doctrine of personal guilt that is a hallmark of American jurisprudence."
(see Coles v. Carlini 162 F.Supp.3d 380 (2015))
Addressing Motorcycle Profiling
If Mann responds to Motorcycle Awareness Month with such venomous rage, how do you think he treats club members on the side of the road? Mann's abusive and discriminatory rhetoric is unacceptable as a public servant and serves to demonstrate why legislation addressing the issue of motorcycle profiling is so important.
Maybe it's time that Dave Mann writes another letter of resignation.