State Farm Insurance Says No Coverage For Motorcycle Clubs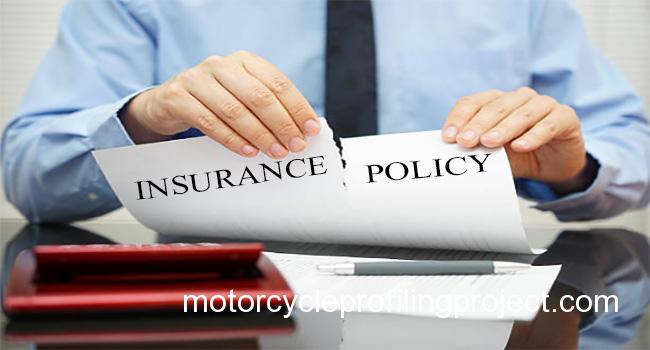 The MPP received a copy of this letter from State Farm Insurance notifying a chapter of the Legacy Vets Motorcycle Club in Florida that the insurance coverage on their clubhouse was being cancelled. State Farm's explanation for the policy cancellation is "we don't provide coverage for businesses engaged in motorcycle clubs." The MPP personally verified the incident in a face-to-face conversation with the individual that provided the letter to the MPP. He is a member of the chapter denied coverage.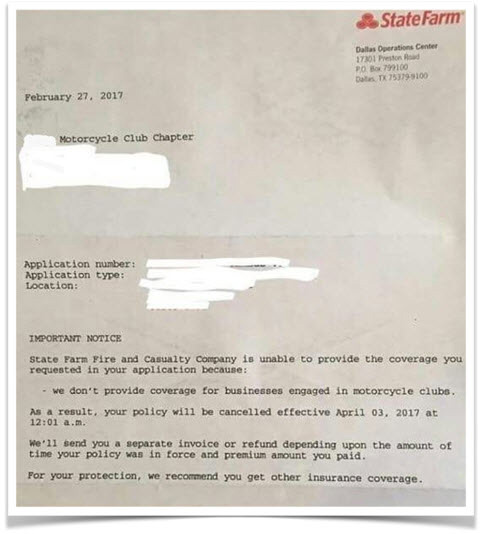 Millions Could Be Denied Coverage?
Although there might be nothing technically illegal with State Farm's actions because they are a private company, the blatantly discriminatory policy stands diametrically opposed to a the ideas of free expression and association and, in this instance, respect for the service of Veterans.
The Vietnam/Legacy Vets Motorcycle Club extends coast to coast and has a massive membership. And to be balanced, if there were a specific or legitimate reason given why this particular club had their coverage cancelled then it may be understandable and motorcyclists would raise no objection. But the letter explicated a general policy of not providing "coverage for businesses engaged in motorcycle clubs."
The potential number of people impacted beyond this club is staggering. The AMA estimates that there are approximately 10 million registered motorcyclists in America, many of whom belong to motorcycle clubs. And the influence of Veterans on motorcycle club culture is generally accepted as common knowledge.
Beyond motorcycle clubs themselves, many of which are registered nonprofit entities, many businesses are "engaged" with motorcycle clubs. Consider the thousands of motorcycle repair and apparel shops that regularly engage in business with members of motorcycle clubs and their property. Motorcycle manufacturers as well. And the thousands of public accommodations, including bars and restaurants in all 50 states, that host motorcycle club charity events and engage in business with motorcycle clubs on a daily basis.
The National Council of Clubs Seeks Explanation from State Farm
How many of the 10 million motorcyclists or their supporters in America are insured by State Farm? How many would choose a different company if they were aware that State Farm would not cover the property of motorcycle club's or businesses engaged in motorcycle clubs?
Recently, the National Council of Clubs, an organization representing the interests of motorcycle clubs and motorcyclists nationwide, wrote a letter requesting clarification of State Farm's policy based on the cancellation notice given to the Legacy Vets MC. The NCOC believes that no motorcyclist or business that supports motorcyclists should engage in business with State Farm if they choose to stand by a general policy of denying coverage to businesses engaged in motorcycle clubs.
Here is the letter from the NCOC to State Farm addressing this issue: