Report Released Under Pressure After Ex-Sheriff Kills TN Biker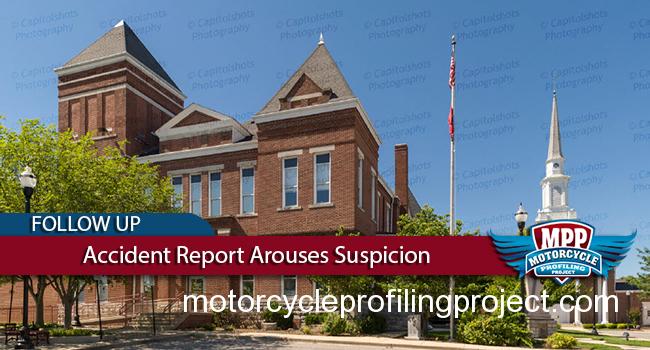 The McMinnville Tennessee Police Department has been refusing to release any public information related to the death of 21-year-old motorcyclist Jay Alan Webster, probate member of the Silent Creed Motorcycle Club, killed on July 7th, 2018, after former Warren County Sheriff Kenneth Taylor failed to yield and hit Webster while driving his Toyota SUV. But after more than a week of stiff public record request denials, and less than 24 hours after public demands to release the information was published on motorcycleprofilingproject.com, the McMinnville Tennessee PD has finally released the accident report.
The release of public information is a small but important victory for motorcyclists in Tennessee because it demonstrates what a focused and unified grassroots motorcycle rights campaign can achieve. Yet important unanswered questions remain and the grassroots pressure must continue to be a voice for Jay Alan Webster.
Results of Former Sheriff's Blood Tests "Pending."
The accident report indicates that the although there were no drugs or alcohol found at the scene, the former sheriff was administered a blood test to determine the presence of drugs or alcohol, but the results were still pending when the accident report was filed on July 8th, 2018, more than a month ago. Why have the results of Taylor's blood test not been released? Do the results explain why an investigation into further charges is still on-going?

Release the Results! Motorcyclists Nationwide Demand It!
Rodney Mancini, a National Council of Clubs (NCOC) participant and Tennessee motorcyclist that originally requested the accident report from authorities, followed-up with a public records request for the results of Taylor's initial blood test. The McMinnville PD rejected Mancini's request because criminal charges were pending.
The McMinnville PD can arguably exempt these results until the investigation is complete, but the results could also be released through discretion. The public simply has a right to know if a former sheriff was under the influence when he killed a 21-year-old man.
The NCOC and the Motorcycle Profiling Project (MPP), organizations representing the legal and political interests of motorcycle clubs nationwide, urges the McMinnville PD to:
Release the results of Taylor's initial blood test and confirm whether the former sheriff was under the influence of drugs; and
Serve justice as dictated by law and charge former sheriff Kenneth Taylor with Vehicular Homicide for the death of Jay Alan Webster, a probate member of the Silent Creed MC, if the results of the test indicate the presence of drugs or alcohol OR if Taylor's conduct created a substantial risk of death or serious bodily injury to Jay Allen.
The grassroots pressure demanding justice for motorcycle clubs and their members through a unified voice must continue, so individuals negligently killing bikers are at least legally forbidden from driving a vehicle. The life and memory of Jay Alan Webster demands this at a minimum.