National Council of Clubs Announces Unified Protest Against Motorcycle Profiling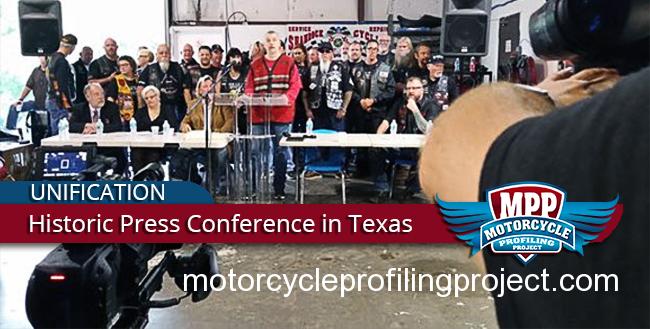 The National Council of Clubs held a press conference at Shamrock Cycles in Austin, Texas on May 17, 2016, the 1st Anniversary of the tragedy in Waco, to announce a National Protest Against Motorcycle Profiling and Discrimination to take place at the ROT Rally in Austin, June 9-12.
Representatives from motorcycle clubs across the country met in Austin to present a unified voice in defense of the community. Motorcycle profiling is a national epidemic impacting motorcyclists coast to coast. There is a well established pattern of evidence proving law enforcement consistently targets individuals for no other reason than their appearance or membership in a motorcycle club.
These clubs are a microcosm of America, comprised of riders from all walks of life. In attendance were Christian clubs, Military Veterans clubs, Clean and Sober clubs, Child Abuse Assistance Clubs, 1% clubs, and riding clubs reflective of the rich culture and history of our country and the multitude of personal interests available to us all.
Significantly, representatives of many national organizations vilified by law enforcement and the media were represented and standing together projecting a unified voice and agreement on the issue of discrimination and profiling. This press conference was also tangible proof that clubs that allegedly do not associate with each other can peacefully come together and unify around common ground issues that impact the entire community.
Double D explained, "To be clear, the National Council of Clubs does not speak for any one club or on behalf of any one club. The NCOC represents the collective voice of the community united around the idea that membership in motorcycle clubs and expression of that membership should be fundamentally protected by the 1st Amendment and not used as a profiling factor."
Speakers presenting at the press conference were David "Double D" Devereaux (NCOC Spokesperson), Brent Coon (NCOC legal advisor and Waco Civil defense), Susan Criss (former Texas District Court judge and Waco criminal defense), Dr. Will Dulaney (Ph.D. International Security and qualified expert witness), Frank McIlhaney (Shield of Faith Ministries and Waco AID) and Wade Eldridge (Colorado COC and NCOC attorney).
The NCOC chose the 1st Anniversary of Waco to announce a national protest. "The suffering of innocents at the hands of law enforcement and the criminal justice system in Waco is an outrageous example of the motorcycle profiling epidemic. The 1st anniversary of this tragedy is an appropriate time to bring attention to the civil rights deprivations occurring in Waco and the rest of the country."
Mass Arrests, Probable Cause, And Ignoring Foundational Constitutional Protections
A primary message delivered by the NCOC, echoing legal and criminal justice experts around America, related to the blatant civil liberty violations involved in arresting nearly 200 people without any individualized proof or evidence of wrongdoing and issuing identical $1 million punitive bonds. Most were arrested for no other reason than their affiliation with a motorcycle club in blatant violation of fundamental principles like the freedom of association and the doctrine of personal guilt.
The NCOC argues, "Video clearly shows the majority of persons present that day running away from a conflict. The majority of those present should have been questioned and released. That's what normally happens when a violent incident occurs in public. Free societies do not round-up and arrest masses of innocent bystanders in hopes of netting the guilty. In a free society, the suffering of one innocent person is supposed to outweigh the public interest in prosecuting the guilty. The ends, as they say, do not justify the means. "
NCOC Challenges Media To Investigate, Not Sensationalize
The NCOC, in answer to why the mugshots of those arrested in Waco were rotated 24/7, placed responsibility on the media for intentionally choosing to sensationalize this incident as opposed to performing the investigatory function the news media was intended for.
Double D said, "A much better use of the media's time, as opposed to sensationalism, would be to investigate the many questions that have yet to be answered. Why did law enforcement set up on the perimeter of a well publicized political gathering instead of making a visible presence to prevent something from happening that they thought may happen."
"Instead of protecting and serving people, they shot and killed people", says Brent Coon.
In conclusion, the NCOC vowed to return to Texas every year on the Anniversary of the Waco tragedy until the matter is resolved.