State Farm Responds to Outrage After Denying Coverage to Motorcycle Clubs
The MPP recently reported that the National Council of Clubs (NCOC), a national rights organization representing the interests of motorcyclists and motorcycle clubs nationwide, recently obtained a copy of a letter from the State Farm Insurance Operations Center notifying a chapter of a Veterans motorcycle club that the insurance coverage on their property was being cancelled. The stated explanation for the policy cancellation was "we don't provide coverage for businesses engaged in motorcycle clubs."
Although the NCOC received no direct response, the Arizona State Representative for the Motorcycle Riders Foundation, Dale "Animal" Dedrick, took initiative and contacted State Farm Insurance requesting an explanation. "What is the State Farm Insurance company policy relating to motorcycle clubs and their property?" Dedrick received the following response from State Farm on May 25th: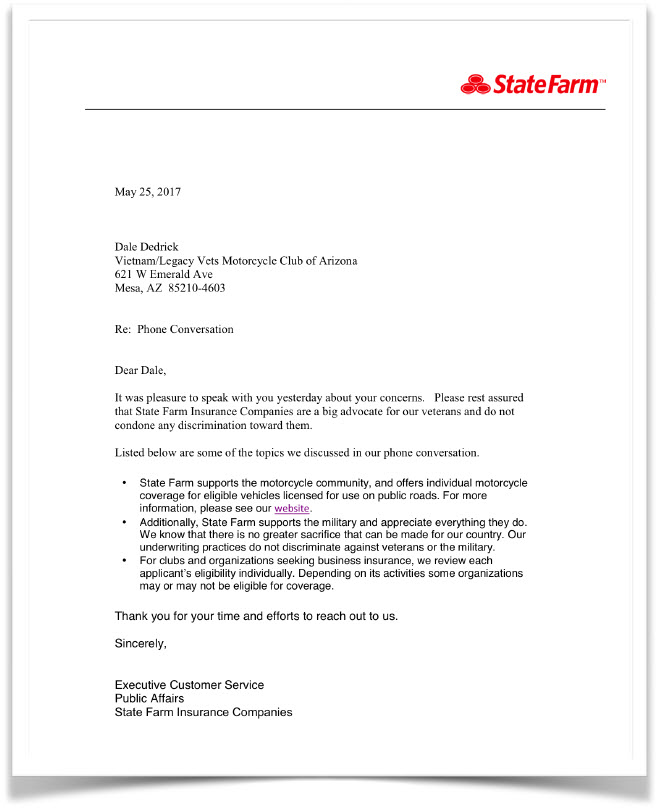 State Farm's response is vague and never directly responds to the clearly stated policy made clear by State Farm's original cancellation letter.
On May 25th the NCOC responded to the above letter which included the following:
"The May 25th response does not directly address the original question and core issues sufficiently.

The May 25th response says coverage for clubs is considered on an individual basis, but it is not clear if the statement of policy in the original letter dated February 27, 2017 is now being rejected by State Farm. Does State Farm have a policy "that denies coverage to businesses engaged with motorcycle clubs"?

If the blanket denial of coverage to businesses engaged with motorcycle clubs is no longer State Farm policy, what activities would disqualify an individual motorcycle club or motorcycle organization from receiving coverage from State Farm?"
The MPP will continue to follow and report on any information relating to State Farm's policies related to motorcycle clubs.