Iron Order Escapes Justice Despite Violent History and Deadly Conflicts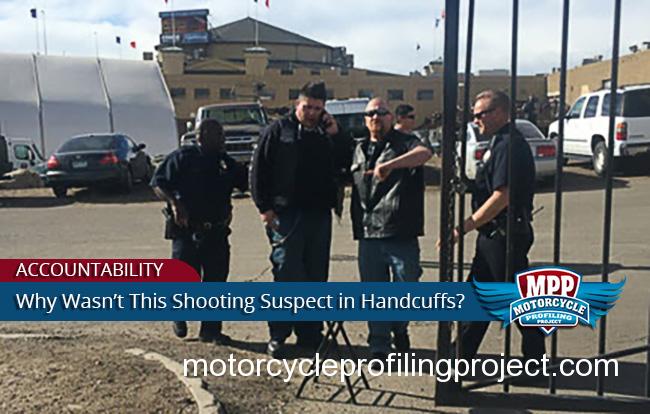 There is a heightened concern with the Iron Order Motorcycle Club because their membership includes rogue cops that play "outlaw" on the weekend, intentionally antagonizing other motorcycle clubs into conflicts as an excuse to use deadly force and "destroy" human life.
The repeated public displays of violence by members of the Iron Order are in conflict with the intended mission of law enforcement and should be a concern to all citizens, professional law enforcement and government officials everywhere.
Iron Order Leadership Clearly Seeks Violence
The current National Vice President and former Sgt. of Arms (Lt. Colonel Michael "Cgar" Crouse) of the Iron Order has explained the twisted rogue cop philosophy of the club on social media when he wrote: "I know our club has the advantage. 1%ers won't call the cops. So what the fuck!? Destroy any fucker that confront you. It's a free ticket….If they can."

The list of incidents establish a clear pattern of the Iron Order provoking confrontations to justify the use of violence and deadly force in order to "destroy" human life. These incidents are not isolated. They are intrinsic to the Iron Order's mentality. The philosophy articulated by the club's National VP has been playing out in real life and people are getting hurt and dying.
01/30/2016 – An Iron Order member shoots and kills a Mongol after after instigating a fight at the Colorado Motorcycle Expo in Denver. Pictures taken before the fatal shot show the visibly armed Iron Order member was not in danger and he could have fled the scene. The Iron Order member has not been arrested. "There has never been a confrontation, so much as a fistfight. And many 1% organizations have attended including the Hells Angels, Sons of Silence, Bandidos, Outlaws, Mongols, and many others. For 30 years that this event has taken place, there has never been a problem until the Iron Order showed up.
06/05/2013 – In Cheyenne, WY Iron Order has a conflict with members of the Los Lobos MC which results in assault, minor injuries, and 2 arrested for weapons charges. No Iron Order were arrested.
06/10/2015 – Erlanger, KY: Iron Order MC v. Iron Horsemen MC which 1 person was deliberately struck with a vehicle.
06/19/2015 – Members of the Reading, PA Iron Order chapter killed a woman named Tanya Focht, a student at Alvernia University. Focht was punched in the face by an Iron Order member then thrown into oncoming traffic and killed as she was trying to defend her longtime boyfriend who was being attacked by Iron Order members outside the Bar B Q Pit restaurant. Berks County District Attorney John T. Adams ruled Focht's death was an accident. Adams told the Reading Eagle, "No charges will be filed in relation to the accidental death."
05/09/2015 – Madison, IN: Iron Order MC threatens off-duty police officer outside restaurant.
02/21/2015 – Meridian, MS: Iron Order MC have a violent conflict with the Pisteleros MC and Bandidos MC which resulted in 3 shot.
06/07/2014 Baltimore, MD: Iron Order MC v. Chosen Sons MC and Iron Horsemen MC in bar fight. Result: Active Police Officer and retired officer, members of CSMC, were charged with assault and robbery.
06/26/2014 – Jacksonville, FL: Iron Order prospect Kristopher Stone shot and killed Black Pistons MC member Zachariah Tipton in Jacksonville Beach after instigating a fight. Florida State Attorney Angela Corey outrageously ruled the killing was justifiable homicide even though Stone shot the unarmed Tipton in the face while only a few feet apart. Corey refused to charge Stone.
04/27/2014 – Crawfordsville, IN: Iron Order MC has a conflict with Sons of Silence MC in a business parking lot involving bats, firearms, and knives with injuries.
NOTE: Most of these incidents have been covered by other media sources. For a laundry list of incidents see IOMC The Real Truth 2
Why is a club with LEO's having violent and deadly conflicts and brawls with other motorcycle clubs?
Considering that conflicts between most LEMC's and other motorcycle clubs are rare to non-existent, this is a very important question. These deadly confrontations are unique to the Iron Order and other clubs with the same rogue cop mentality. In fact, other LEMC members condemn the actions of the Iron Order. Members in clubs like the Blue Knights have, in response to a Press Release issued by the National Council of Clubs concerning the recent fatal shooting in Denver, made it clear that they condemn the actions of the Iron Order and would not associate with them.
Thomas O'meara, nicknamed Tuff, a member of a legitimate LEMC writes:

"Being in an actual LEMC ( law enforcement motorcycle club ) I am sickened by the behavior of Iron Order. My prayers go out to the families involved. And I hope the MC community, along with general public, sees this as solely an act from Iron Order MC and not combine other LEMC clubs in this incident."

GC Bengal, a member of the Blue Knight LEMC writes:

"As a Blue Knight I don't support any violence towards any club. The IOMC has had several incidents that make all LEO's and LEMC's look bad and, as a LEO, I would never associate with them or support them. Yes, I have a job to do and yes we carry on and off duty because we are LEO's 24/7. But the Blue Knights do not advocate nor do we really have many issues with other clubs unlike some other so called LEMC's like the Iron Order."
The intentional provocation of conflict as an excuse to use deadly force and destroy human life must be exposed, extracted, and held responsible. The motorcycle club community should stand in unity and demand that that individuals like Derrick Duran, the Iron Order member that recently killed Victor Mendoza in Denver, be arrested and held responsible for the unnecessary use of deadly force and intentional attempts to destroy people and get away with it.