Law Enforcement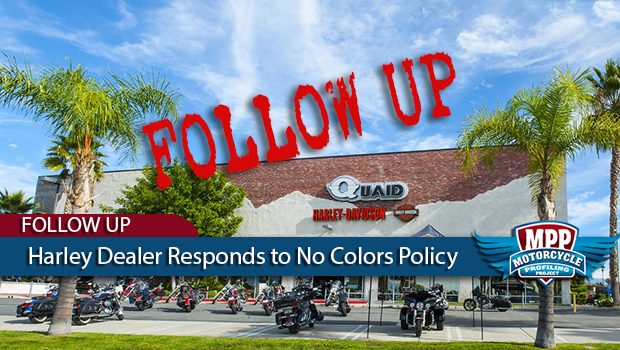 Published on September 22nd, 2017 | by David "Double D" Devereaux
0
Harley-Davidson Dealer Blames "No Colors or Cuts" Policy on City
Loma Linda (CA)- Brandon Quaid, Owner/Sales Director at Quaid Harley-Davidson in Loma Linda, emailed the MPP in response to a recent article relating to "no colors or cuts" at a recent Bike Night event. (see Harley-Davidson Dealer Bans Motorcycle Colors at Bike Night, September 21, 2017 )
Quaid feels that the City of Loma Linda imposed the permit conditions without warning. Quaid HD maintains that they refused to enforce the policy, colors and cuts were present for bike night, and that they even contacted local clubs to warn them of the city's position.
Not complying is better than complying, it is the opinion of the MPP that not signing the permit in the first place would have sent a clear signal and eliminated much misperception and would  also preserve standing for Quaid HD to take action against the city.
Although Quaid doesn't deny that an employee of Quaid HD signed the agreement, he strongly maintains that the dealership was not in collusion or agreement with the city's conditions requiring a ban on colors or cuts.

DISCLAIMER: Although comments are encouraged and appreciated, not all comments will be posted by Motorcycle Profiling Project LLC. The Motorcycle Profiling Project LLC appreciates oppositional viewpoints but will not post any comments that do not contribute to a respectful and meaningful discussion or are blatantly discriminatory or otherwise offensive. Resubmissions will be considered at the commenter's request.