Pagan's MC Charity Event Canceled After Police Threaten MD Bar
The practice of law enforcement officers or liquor control officers coercing establishments because they serve individuals wearing motorcycle club colors is reaching epidemic proportions.
Acting under the color of state law, some officers are telling establishments that serving members of motorcycle clubs that have been labeled criminal organizations or gangs by the FBI (or other authorities) is a threat to public safety and general welfare.
These claims are based on generalizations, not the Constitutional threshold of particularized reasonable suspicion that a specific person or persons is committing or intends to commit a specific crime.
The Motorcycle Profiling Project has become aware of an instance of such coercion by the Anne Arundel County Police Department targeting the Sharks Tooth Bar in Brooklyn Park Maryland (near Baltimore). AACPD officers pressured the management of the Sharks Tooth Bar into canceling a Pagan's MC charity event that was supposed to be held on January 16, 2016.
The AACPD essentially claimed that the FBI has labeled the Pagan's MC a criminal gang and therefore "reminds" the Sharks Tooth Bar management that serving members of the Pagan's MC would violate the conditions of their business license because they would be operating their business in such a manner as to threaten public safety or the general welfare of the community.
The MPP believes that the AACPD's actions are discriminatory and violate the fundamental rights of both the Pagan's Motorcycle Club and the Shark's Tooth Bar. The MPP has sent the following letter to the Anne Arundel County Police Chief (and CC'ed the County Executive and County Attorney) in hopes of correcting the obviously prejudicial and unconstitutional coercion.
Anyone concerned by the AACPD actions can call or email the Anne Arundel County Police Chief, County Executive, and County Attorney to express your concerns.
Timothy J. Altomare
Anne Arundel County Police Chief
(410) 222-8500
e-mail: altomare1317@aacounty.org
Steve R. Schuh
Anne Arundel County Executive,
(410) 222-1821
e-mail: sschuh@aacounty.org
Nancy M. Duden, Esq.,
County Attorney
(410) 222-7888
e-mail: nduden@aacounty.org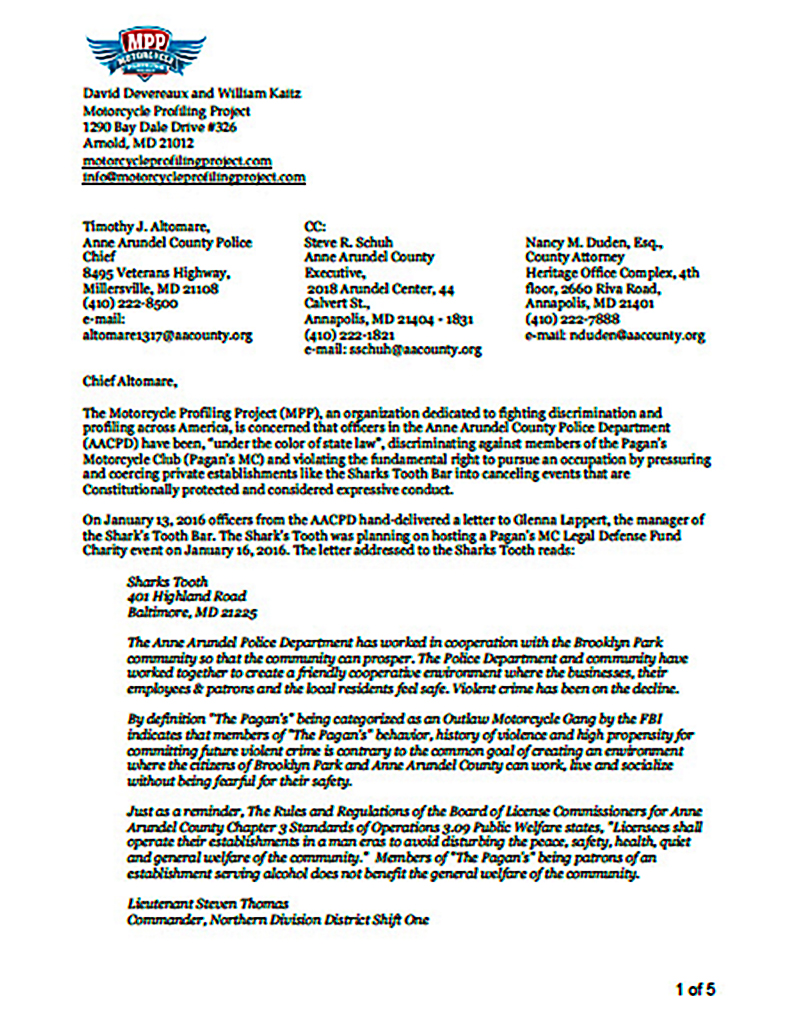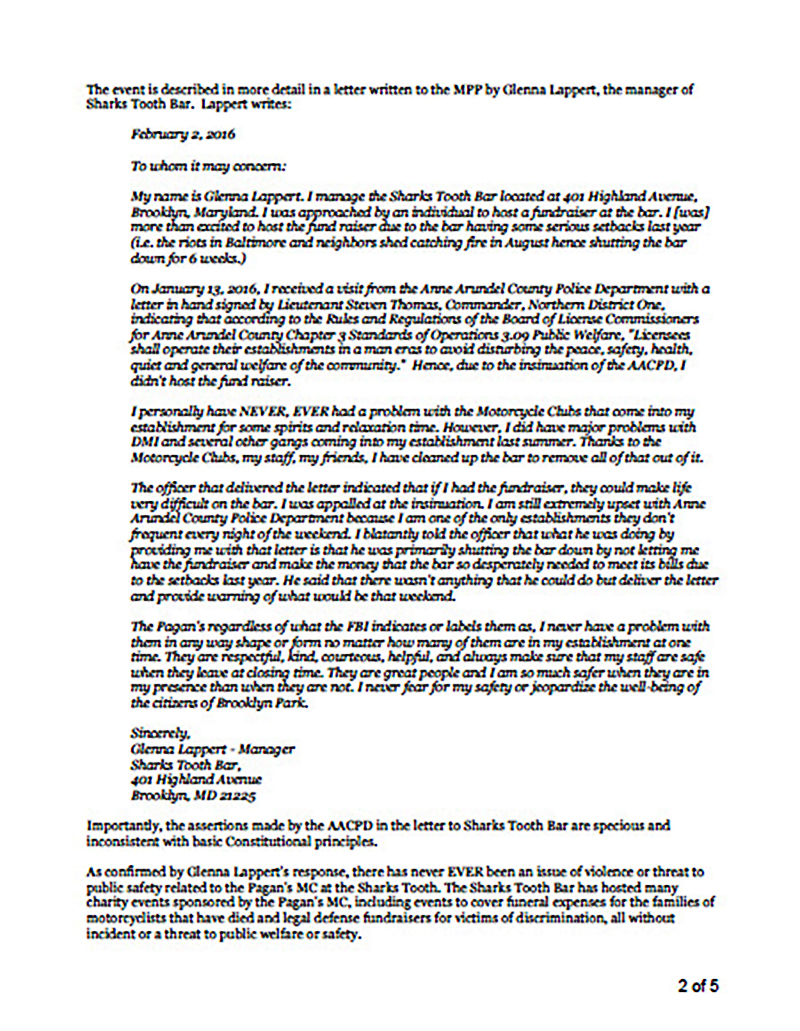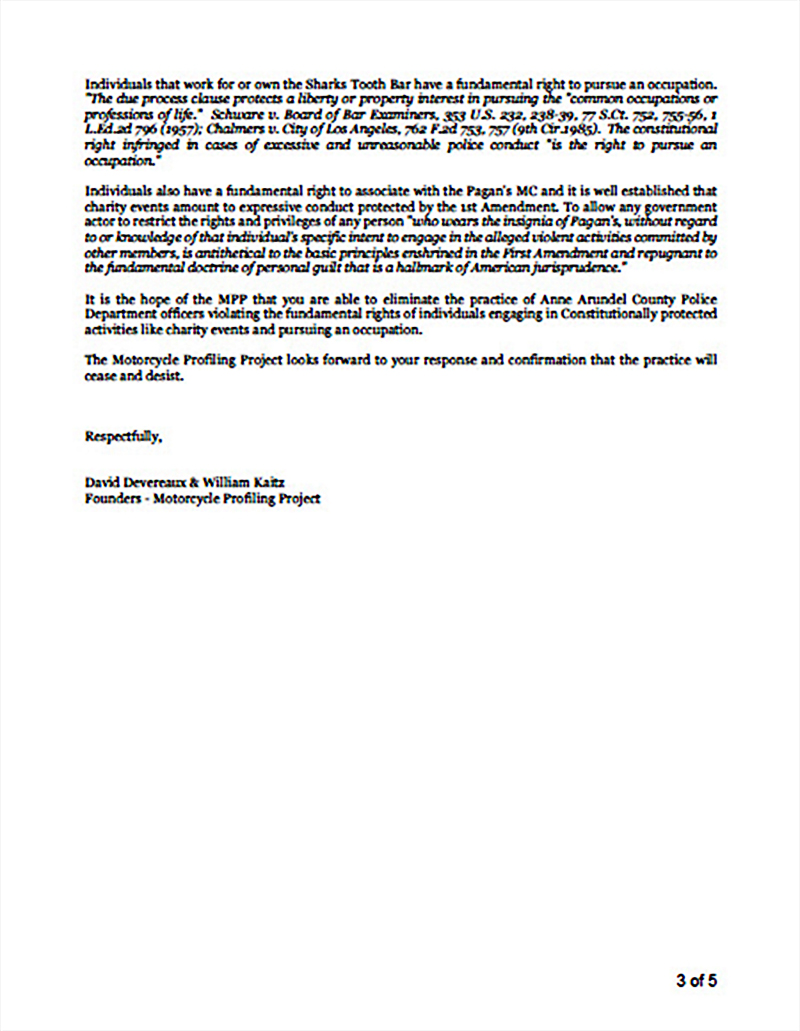 Original Hand Delivered Letter from AACPD regarding Pagan's MC Charity Event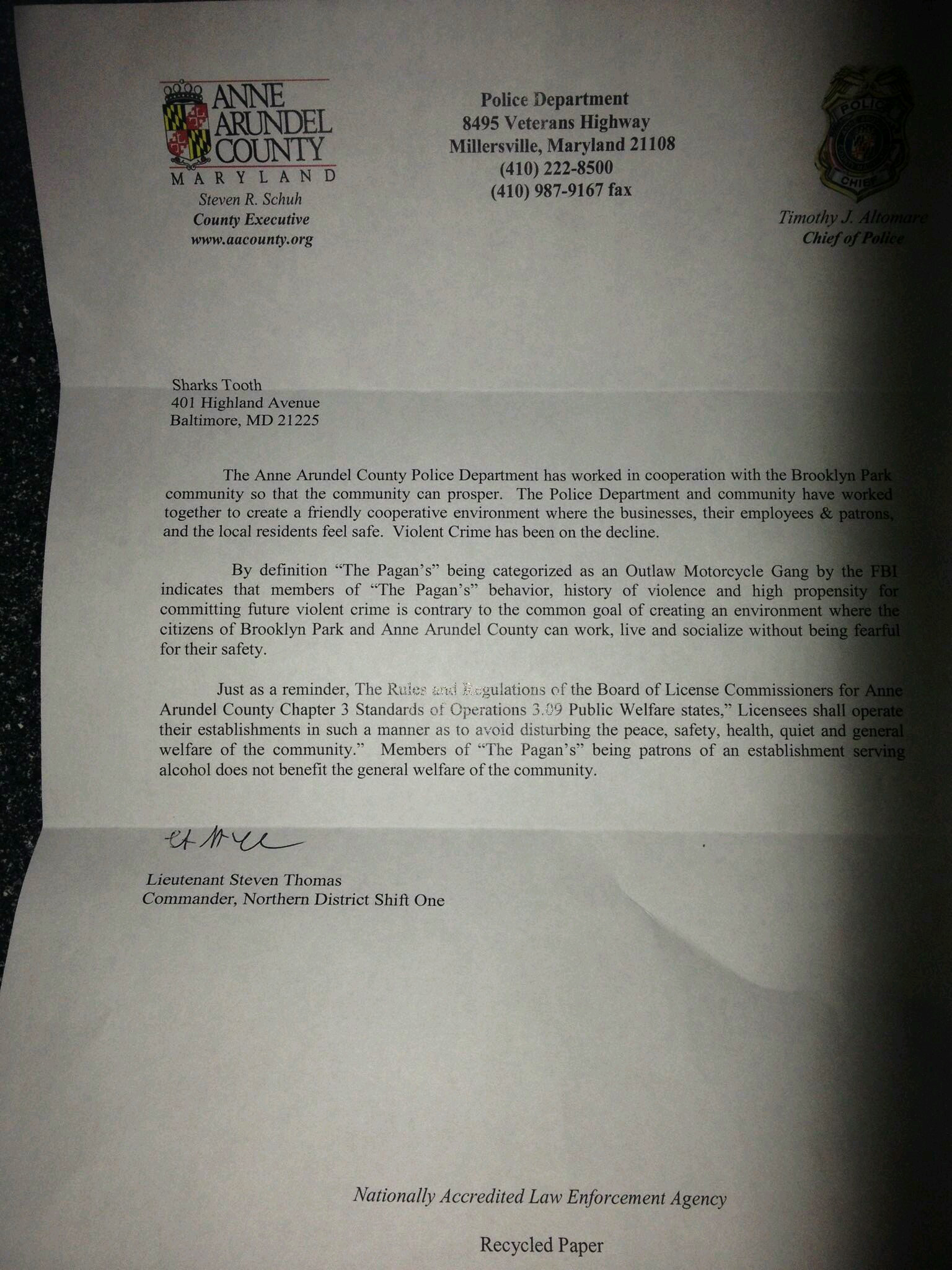 Letter from Shark's Tooth Bar Manager