Pagans MC Members Falsely Arrested & have Legal Firearms Confiscated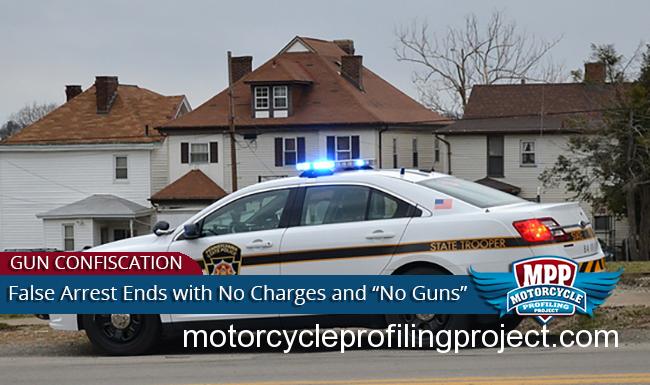 The epidemic of profiling and discrimination targeting members of motorcycle clubs is undeniable. Piece by piece, issue by issue, the community is facing challenges to fundamental freedoms based solely on associations. The recent practice of targeting club members legal gun rights expands the stakes substantially. On January 9, 2016 a textbook example of discriminatory policing targeting 2 members of a motorcycle club occurred in Uniontown, Pennsylvania. The stop included the confiscation of legally purchased and possessed firearms from individuals that had never been handcuffed in their lives prior to being falsely arrested.
January 10th, 2016
57 Miles Southeast of Pittsburg
Just After Midnight
Two members of the Pagans MC were traveling back to Virginia, after attending a motorcycle event in Pennsylvania, when they were stopped for speeding and ultimately arrested for possession of legally permitted firearms. They were chained to a metal bench for three hours before they were released without charges. They were questioned about their club affiliations. Predictably, their weapons were not released. These men are 52 and 42 years old with no criminal histories.
According to one of the members, a military veteran, after leaving a gas stop in Collensville,
"I saw a State Trooper at the light. Shortly thereafter, I saw the vehicle behind me. Felt like they were trying to get us to screw up while being the only vehicle on the road that night."

"We were eventually pulled over for speeding."

"A State Trooper approached and said we were stopped because we were going 60 in a 45. But that was the last the speeding issue was mentioned. After confirming that we were both carrying legally permitted firearms from Virginia the trooper returned to his vehicle in order to run their information."

"After 4-5 minutes the trooper returned and asked us to exit the vehicle. For the first time in either of our lives we were handcuffed. We were relieved of our weapons and placed in the trooper's vehicle."

"We told the troopers that although it is true that Virginia has repealed its reciprocity agreement with Pennsylvania, the repeal doesn't take effect till February 1. We were told they were checking. They asked for permission to search and we gave them permission."

"We were taken to a local PA State Police Barracks. We were handcuffed to two metal benches. They tried an ankle bracelet, but it caused extensive pain so they settled on handcuffs."

"We were told that we would probably be held overnight. They found no criminal histories, only clean records, and said they would drop charges from a felony to a class I misdemeanor, but they were not charging us yet. We were told they had to speak to the DA first to determine if he'll prosecute. After approximately three hours we were released without charges but we were told our firearms were being kept as evidence."

"Still in handcuffs, we were taken back to our vehicle and released."
A Clear Case Of False Arrest And Unjustified Detainment
Clearly the officers had zero grounds to arrest and detain anyone under the circumstances as described. According to the Washington Post:
"Virginia Attorney General Mark R. Herring announced Tuesday that the commonwealth will no longer recognize out-of-state concealed handgun permits, part of a national push to circumvent legislatures opposed to tightening gun laws…effective February 1." (See Washington Post, "Virginia to stop recognizing concealed carry gun permits from 25 states", December 22, 2015)
Both individuals arrested possessed legal carry permits from the state of Virginia, legally recognized in Pennsylvania until February 1. Certainly it's reasonable to expect law enforcement to be informed and educated on such issues particularly if they are going to arrest and detain people. And it definitely does not take three hours to make a correct determination on an issue of such magnitude that has received such massive media and government attention.
And to keep legal firearms as evidence is outrageous and absurd. These men were released without charges because they did not violate a law that is not in effect until February 1, 2016. There is absolutely no legal justification to seize legal property that is legally possessed. No case, no charges, no need for evidence. This clearly violates reasonable search and seizure protections and directly violates 2nd Amendment rights extraordinarily obtained through extensive background checks and scrutiny.
Motorcycle Club Discrimination Revealed Through Trooper's Questioning
So what underlies the troopers decision to falsely arrest and detain these two men? The MPP asked one member whether there was anything that would lead him to believe that this incident was a result of motorcycle profiling.
According to the member,
"After being handcuffed to a bench in the station for 20 minutes, a trooper asked me why I would want to join the Pagans. I told him I was 20 years retired army. Veterans want a sense of security and we love riding motorcycles. Then one trooper asked whether I liked being in a gang. I corrected his vocabulary. Motorcycle Clubs are made up of men. Not gang members. The trooper then asked me whether I watched Sons of Anarchy."
It seems clear that the trooper's questioning reveals a discriminatory anti-motorcycle club motive.
Support Pending Legislation In PA To End The Practice Of Motorcycle Profiling
This case further demonstrates that the time to act in Pennsylvania is now. The mounting pattern of evidence proves that the practice of discriminatory policing targeting motorcycle club members is irrefutable. In the words of the Third Circuit Court of Appeals in the District of New Jersey:
To permit law enforcement to object to any person "who wears the insignia of Pagan's, without regard to or knowledge of that individual's specific intent to engage in the alleged violent activities committed by other members, is antithetical to the basic principles enshrined in the First Amendment and repugnant to the fundamental doctrine of personal guilt that is a hallmark of American jurisprudence."