American Legion Posts Discriminating Against Veteran Bikers
December 21, 2020
34461

22 minutes read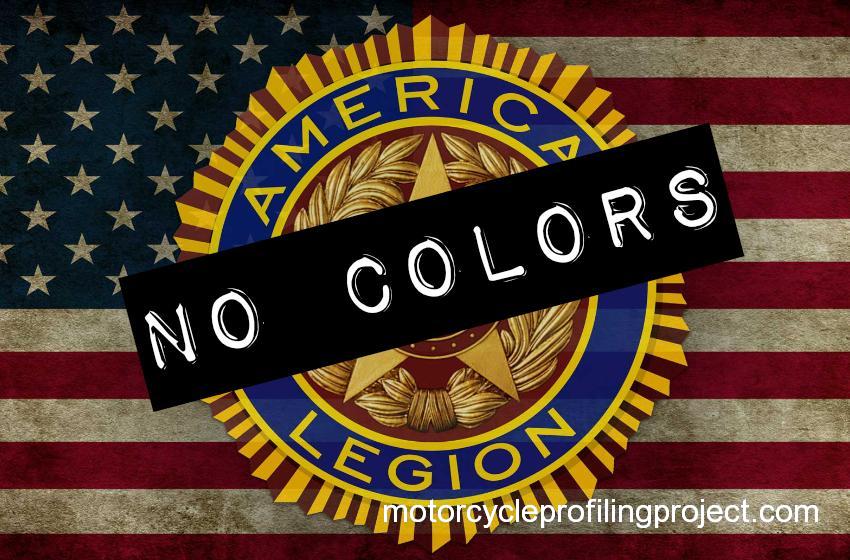 The National Council of Clubs (NCOC), representing thousands of motorcycle club members across the country, has become increasingly concerned with the escalating reports of Veterans' Organizations, like the American Legion, denying entry to individual members of Motorcycle Clubs over the last two years. While this discrimination is not new to members of the motorcycle community in general, the expanding number of Posts that are implementing "No Motorcycle Club Colors" policies targeting fellow Veterans is cause for alarm. Reported incidents of discrimination range from all across the Nation. The most recent reports including South Dakota, New Mexico, Texas, Pennsylvania, New Jersey, and Delaware. The narrative is the same in all locations: "Legion Riders only, no Club colors." This has proven to not be an isolated issue, taking place at a few reported locations. Several of the American Legion Posts, Post 22 in Rapid City, South Dakota for instance, have members of state law enforcement agencies making decisions and pressuring their Boards or Executive Committees to enforce veterans discrimination based on biases born from antiquated stereotypes perpetuated by Hollywood and local law enforcement fear mongering.
Equal Access
The American Legion's 'Constitution and By-laws' state their first goal is "to uphold and defend the Constitution of the United States." The denial of entry of Motorcycle Club members based on what they are wearing or their chosen method of transportation, which is a Constitutionally protected activity 1, is blatant denial of additional camaraderie many Veterans are seeking post-War but also serves as an example of discrimination of fellow Veterans. Many American Legions simply fall short even upholding their own Preamble;
FOR GOD AND COUNTRY WE ASSOCIATE OURSELVES TOGETHER FOR THE FOLLOWING PURPOSES: To uphold and defend the Constitution of the United States of America; To maintain law and order; To foster and perpetuate a one hundred percent Americanism; To preserve the memories and incidents of our associations in all wars; To inculcate a sense of individual obligation to the community, state and nation; To combat the autocracy of both the classes and the masses; To make right the master of might; To promote peace and goodwill on earth; To safeguard and transmit to posterity the principles of justice, freedom and democracy; To consecrate and sanctify our comradeship by our devotion to mutual helpfulness.2"
Statistics
According to the United States Census Bureau, roughly seven percent of the US population are Veterans. In contrast, according to the Motorcycle Profiling Project (MPP) and the Profiling Survey, over 37% of Motorcycle Club Members are Veterans, five times greater than the national average. In essence, Motorcycle Club discrimination is Veteran discrimination3. According to the same survey, over the past five years, Veteran centric Motorcycle Clubs have reported a whopping 167% increase in profiling incidences. This, as any form of discrimination, should not be tolerated in today's society.
The denial of entry to an individual simply because he or she has decided to hang up one uniform and put on another that has been confirmed as a protected 1st Amendment right, should disturb all. As previously mentioned, the increased number of American Legion Posts that have begun denying the services and camaraderie veterans seek outside of their respective Clubs, is forcing veterans to choose between groups. Them versus us. Be accepted for who you are and the battles you continue to face versus hide who you are at the risk of being shunned by those who have fought before and sometimes, alongside of you. With an average of 22 Veteran suicides daily in the US, it is unconscionable that certain American Legion Posts would turn their backs on veterans, simply for their preferred manner of dress.
Not Anecdotal
The number of cases where American Legion Executive Committees have become comfortable with discrimination of veterans based on their attire; and their inability to acknowledge this as a confirmed Constitutional right is on the rise. Previously mentioned was that of American Legion Post 22, in Rapid City, SD where Lyle Tolsma serves as Post Commander, and is also a Special Assistant Attorney General Division of Criminal Investigation (DCI), in Rapid City. Mr. Tolsma and the American Legion Executive Committee had agreed to ban all "colors" from the Post grounds regardless if they were veterans. A member of the NCOC living in South Dakota requested a meeting with Mr. Tolsma and a phone call was agreed upon. During that call the NCOC Representative sought to appeal the ban by collecting information and looking towards a path of reconciliation and eventually a renewed relationship between the MC community and the Post. Mr. Tolsma's reported reasoning for initiating the ban was focused on one alleged incident alleged at the Post in 2018, when the ban went into effect, and which the alleged event could not later be corroborated by any members of the Veterans Motorcycle Clubs that leased the space or attendees of the event. During that call, Mr. Tolsma continued to assert that, "Outlaw Motorcycle Gangs are nothing but …uh…organized crime and that's the bottom line. That's all theyare is organized crime". When challenged on the practice of lumping all MCs together, Mr. Tolsma stated, " How do we eliminate one without the other? That is the resolution we came to. It was best to avoid the situation by eliminating everybody except the Legion Riders, who are a Legion…part of us". When the NCOC Representative confirmed the stance that the American Legion Executive Committee has decided to ban all other groups, regardless of whether they are Veterans MCs or Motorcycle Ministries, Mr. Tolsma stated, "That is correct".
In an effort to better clarify, another unidentified member of the American Legion Executive Committee stated, "We don't ban them but we ban them from coming in with any colors of any kind. If they are someone off the street and just come in off the street we don't have a problem with it". As anyone in the MC community knows, we are the same person in or out of the cut. The NCOC Representative asserted the Constitutionally granted and Supreme Court confirmed right to wear motorcycle paraphernalia and Mr. Tolsma retorted, "and we'll exercise our right to deny them". In an effort to find middle ground, the NCOC Representative requested letting in 100% Veteran member MCs because those would be the ones to carry the American Legions forward in the future and it was answered with there being "no chance" of Post 22 opening their doors to Veterans in motorcycle clubs wearing their cut. In Mr. Tolsma's words, "not going to do that. The crew that is in here are not happy but they understand why". That statement alone confirms that wide scale bans not only hurt employees but also profitability and sustainability of membership driven Veterans Organizations.
As the conversation comes to a close, Mr. Tolsma stated, "I work for DCI, so uh…I know a little of your background. Well, do you know Detective________ from __________Sherriff's Office?". The NCOC Representative reported he did. Mr. Tolsma continued, "I don't know if that hits home a little bit but it also ties into what I am talking about of why we make our decisions like that". What Mr. Tolsma is alluding to is a long past arrest which did not pertain to the conversation or the advancement of nurtured relationships between the MC community and the American Legion Post. Instead, it bordered on breaking "state actor discrimination laws" when using his official capacity as a state or federal enforcement agent to sway or control private industry practices. We'll continue to keep you posted on this story.
In a more recent instance in El Paso, Texas, a member of two local motorcycle clubs, one made of 100% Veterans, noticed their local American Legion Post 36 Eastwood's flag was flying upside down. Video sent in to the NCOC shows four men honoring this Country by righting the flag. Communications reporting the flag and ultimate correction were met with grace by the Post Commander and the "first round is on us when we re-open" was offered. When it was realized that the patriots correcting the flag were a mix of 1%ers and Veterans MC members, the offer was only good if they did not wear any "colors" when they came in. The MC member reporting the event thanked them for the offer and stood by his First Amendment right.
In Albuquerque, NM a statement from the NM Motorcycle Rights Organization was forwarded to the NCOC Veterans Discrimination group and share here.
"Post 13 in Albuquerque was friendly to us for 10+ years, hosting monthly meetings for NMMRO as well as NNMCOC. In late 2018 that relationship changed when new leadership of the [American Legion] Post took over. Our monthly meetings and events brought a steady income for the Post who, in the later years of our relationship, was struggling financially. Once the new Commander was in place and several former board members were replaced, the Post stopped allowing motorcyclist events to occur. The stated reasons were drugs, alcohol, and firearms were found, observed or reported, and were never reported to us or even suspected on our part. All meetings were organized and peaceful and quiet. When I contacted the Post Commander to attempt to resolve and verify their concerns, she was unwilling to work with us. We asked for a chance to represent ourselves at the next board meeting. We were granted the opportunity to speak at that meeting. Prior to that meeting, we notified the [American Legion] Post of our intentions to pursue legal action and press notification of discriminatory profiling. One day prior to the meeting we were contacted by the Regional Commander. He was willing to listen to our concerns and ultimately stated that they had the right to refuse service and that was backed on a national level. I attempted to reach out to the National Command, and they refused to work with us, stating that every post is self- governed and that they were not willing to intervene. I then called the [American Legion] Post 13 Commander and canceled our speaking time at the board meeting, due to their unwillingness to hear our concerns in a fair and equal forum. We notified all members of our community of these events. We are aware that several members immediately canceled their [American Legion] Post membership. The accusations of drugs, outside alcohol and firearms were never substantiated and the [American Legion] Post could not provide tangible evidence. Unfortunately, following this incident, the [American Legion] Post has continued to struggle financially. We have found that the Moose Lodge was more than willing to host us and have had a great relationship with them. We hope that this relationship is long and beneficial for both organizations."
Some American Legion Posts Continue to Stand with Us
In Corpus Christi, TX the Region 8 Texas Council of Clubs and Independents continue to have a thriving relationship starting back in 2006. The Region Chairman was granted a meeting with the American Legion Board of Directors for Post 364, where he was able to share the Region's vision of community service, event coordination, motorcycle safety and awareness, and legislative outreach. The meeting was a success and resulted in the doors being open to approximately 33 Clubs and independents riders covering South Texas. The American Legion Post continues to support Texas legislative actions related to motorcyclists' rights and safety awareness, as well as hosting Club events. The relationship has been reported as a win/win situation for both parties and they look forward to continuing the mutually beneficial exchange. American Legion Post 364 is not alone, there are other American Legion Posts that continue to maintain the mutually beneficial relationships developed with the motorcycle community. We are eager to capture more of these relationships and would encourage those positive stories be shared. Unfortunately, the number of stories related to discrimination of not just MCs but Veteran centric MCs is on the rise and has begun to eclipse those positive stories. If you have a positive story regarding your local American Legion Post, email us at veterans@councilofclubs.org.
Continued Efforts to Maintain Dialogue
In October 2019, the Texas Council of Clubs & Independents and VFW were able to work through attempts to introduce similar discriminatory language to be submitted in the VFW October 2019 General Orders but ultimately were successful in their efforts to maintain the mutually beneficial relationship moving forward. So, when reports of similar discriminatory language destined for State consideration by the American Legion of Texas was reported to TCOC&I by a longtime member of the American Legion Post in Waco, there was some surprise. Again, the TCOC&I requested an opportunity to meet with State leadership during the pending resolution vote scheduled during their Midwinter Conference in February 2020. TCOC&I worked in concert with the local Waco American Legion Post leadership and members to encourage State leadership to provide information regarding the need for such wholesale discriminatory actions. Although State leadership reportedly did not reply to TCOC&I directly, American Legion members attending the Midwinter Conference reported that State leadership had received TCOC&I's certified letter as well as a letter of dissent from the Waco American Legion Post. As a result, the American Legion Department of Texas Commander initiated a meeting with the Post Adjuvant to discuss the proposed discrimination of Veterans in MCs at American Legion Posts and its origin. The resolution was intended to be voted on by the Department Executive Committee, composed of the Division and District Commanders. The Department of Texas Commander stated, "that any such vote should be by the membership, not by the leadership". The Resolution was then tabled and referred to the Americanism Committee meeting in July Convention and will be published for discussion, and the meeting could be attended by any American Legionnaire. Due to COVID19 precautions, this meeting was not held. The reporting Waco American Legion Post member felt strongly that the State Commander understood the concerns, seemingly sympathetic, and insistent that "such decisions be membership based". The fight in Texas in not over, just merely put on pause.
Moving Forward
What can we do to repair the once long-standing positive relationship Motorcycle Clubs had with all of the American Legion Posts? A directive for the National Office condemning and ending the blanket ban on "Motorcycle Club Colors" would be a good start. Several members of the NCOC have attempted to contact members of the National Board, to no avail. There is hope that someone on their Board receives this and is open to healthy dialogue. Coincidentally, in the Spring 2018, Denise Rohan, the National Commander of the American Legion, was challenged by reports of discrimination of minority groups in Washington and stated:
As the National Commander of The American Legion, I am disappointed any time I hear of acrimony at one of our posts. I can unequivocally state that we reject discrimination in all of its forms. It is antithetical to who we are as Legionnaires, and I expect that every one of our members treat each other with the dignity and respect they deserve as veterans4"
The National Council of Clubs would like Commander Rohan, to confirm that discrimination of Veterans in MC paraphernalia would be included as "discrimination in all of its forms" and publicly denounce the practice of wholesale bans and acknowledge the positive impact the motorcycle community has had on sustainability of American Legion Posts around the country.
Additionally, COC's across the United States have been encouraging their Veterans to get involved, join their local Veterans Organizations because then, it shows the Veterans MC community and MC community as a whole wish these Posts to not just survive, but thrive. During a recent discussion regarding the increasing numbers of reported of wholesale bans with an American Legion Post Commander in Southern California, he stated "they need to understand how much money each MC member spends compared to the 4pm to 8pm crowd at each Legion". When asked to expound on the financial implications such wholesale bans would have on the sustainability of American Legion Posts, he continued, "When you have an [motorcycle club] event it is the life blood and doubles the month."
The problem is, reports show no one wants to pay a membership fee for inclusion into a group that does not accept them for expressing protected free speech. The same free speech that each of them have fought for. The fight that each of them has in common, regardless of the era in which they served. While looking for more history of discrimination related to Veterans Organizations, a conversation with a Vietnam veteran out of Alabama recalled his time returning from war and volunteered that,
Both the [American] Legion and VFW have history with Vietnam veterans. When we returned in the late 60's and into the 70's both organizations had declared that we had not been in a war, therefore we were not eligible for membership. In the mid 80's, when more and more WWII veterans were dying every day, Vietnam veterans suddenly began receiving fancy engraved "invitations" to join the [American] Legion or VFW. Few did, recognizing that the invitations only came because those organizations were losing their membership base at an alarming rate".
That same discontent seems to be plaguing our younger Veterans as they come home and choose alternative organizations to find that camaraderie they miss from their days in the service . A simple Google search
with the search term "Struggling American Legion Post" returns article after article, video after video; of American Legion Posts struggling due to low memberships and decreasing renewals. Substituting "VFW" for "American Legion" may yield fewer results but many share the same sad story. Those stories have proven the previous point. These local American Legion Posts have made wholesale discrimination resolutions, whether on their own or quietly under direction, to almost 40% of the MC community. Thus, eliminating a large membership opportunity.
It is time for our Veterans to speak up! No longer are the days where we silently sit by and allow others to dictate when and where we can gather, or where we can patron. If you are a member of a Veterans Organization, we encourage you to attend the board meetings and speak your minds, vote when the time comes, and change this culture content to perpetuate outdated stereotypes. Institute change protecting the notion each member is judged on merit and not appearance. Remember, Loud Bikers Save Rights!
---